Register Today! #PHXC2015 TRAILERPhoenix Classic (#PHXC2015) 'Pan Am Games Special' Anti-Gun Violence Men's, Women's 9U, 13U, 11U, 15U & 17U Basketball Tournament#PHXC2015 Tournament Details:Date:
July-10-11-12 2015.
Location:
Ryerson University | Kerr Hall Gym  
Cost:
$425 (Men's, Women and 17U)
         $375 (Girls and Boys: 9U, 11U 13U and 15U)
Teams:
40
Format:
Single Elimination (Guaranteed 2 games)
Awards:
Provided by Adidas
Prizes:
First, Second & Third places
Confirmed Men's Teams:
- 5 Guys
- Toronto 3D
- Scarborough Hawks
- East End Dunz Runs
- Reasonzinc1
- Reasonzinc2
- PINDAB
- SWAT
- OCAA Alumni
- Ryerson
- Outlaws
- Durham Bulldogs
- PUSH
- Extreme Fitness
Confirmed 13U, 15U
- Grassroots
- Etobicoke
- BMD Academy
- PYB
- Reasonzinc 1
- Regent Park
- PUSH
- Parks & Recs
NO TEAM? NO PROBLEM!
Complete our online individual (free agent) registration form (http://www.4reasonz.com/indv-player-reg-form/), attend our annual player's combine Thursday, July 2nd and be drafted to one of three Reasonzinc teams! Contact phoenix@4reasonz.com or call JW: 647.764.6473 for location and time.
WHAT'S NEW FOR THE 4TH ANNUAL #PHXC2015
?
In the spirit of the Pan Am Games, we are proud to host our first annual #4RTheLoveOfIt FREE U15 and U11 Boys and Girls Skills and Drills Clinic in collaboration with Ontario Basketball.#4RTheLoveOfIt clinic is free for everyone and will be held at Ryerson University Kerr Hall gym July 10 & 11 2015. Registration is limited. Register online today to reserve your child'd spot! Log on to www.basketball.on.ca for Ontario Basketball competitive and community programming opportunities.(http://www.4reasonz.com/4rtheloveofit/) For more information, contact Amiga Taylor at bballclinic@4reasonz.com or call 647.668.6107
Interested? Contact phoenix@4reasonz.com or call JW: 647.764.6473TEAM REGISTRATION FORM:
http://www.4reasonz.com/phxc-teamreg-form/
LETTER FROM THE CONVENORS:
http://www.4reasonz.com/classic/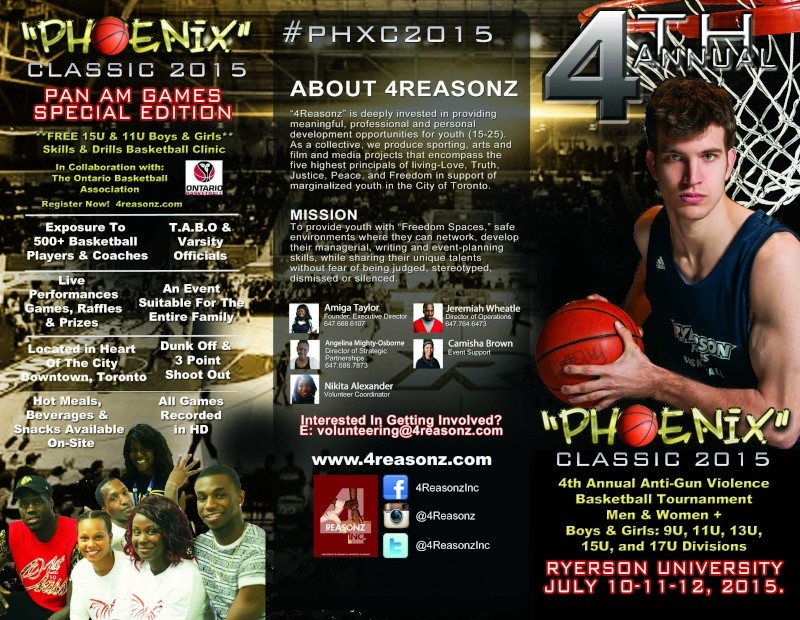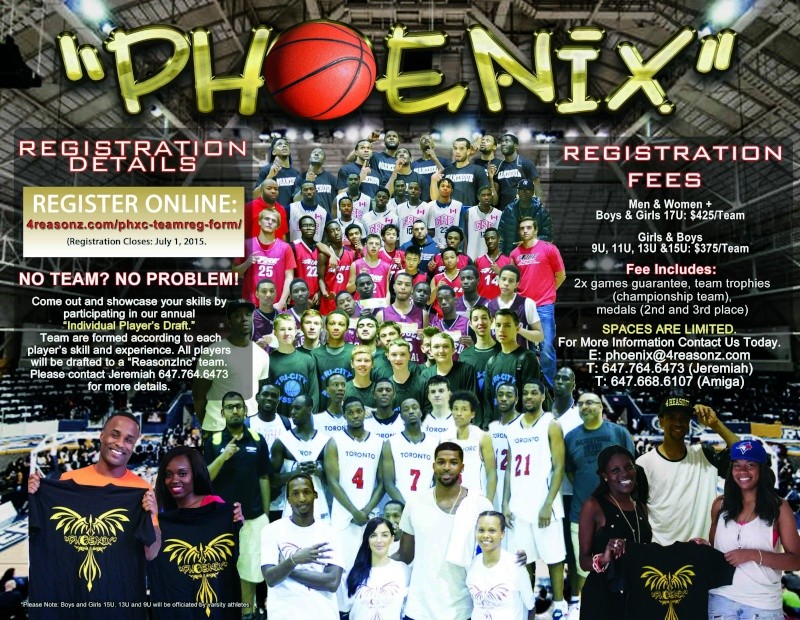 Follow us @ 4Reasonz Inc
Like us on Facebook: 4Reasonz Inc.
YouTube: 4ReasonzInc
www.4reasonz.com